The service in the context of the research division provides support to internal and external users, manages the scientific computing infrastructure for local research and the CMS and ALICE collaborations, designs the network of laboratories, prepares and maintains the data acquisition systems for nuclear physics experiments, participates in experiences on cutting-edge technological topics with INFN CNAF and national services (such as business continuity, INFN CLOUD), proposes experiments in the national scientific commission 5.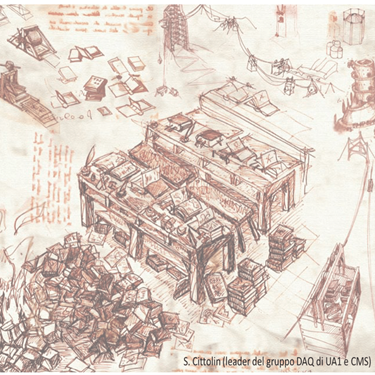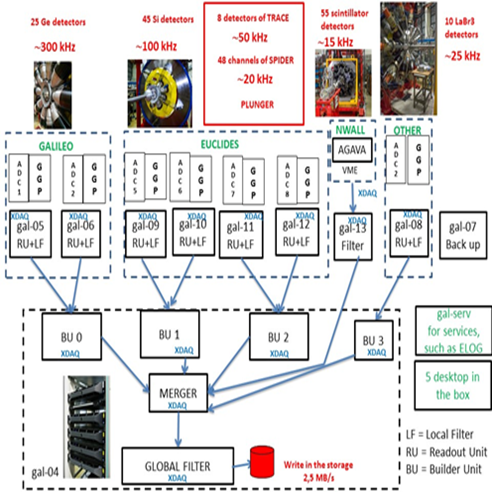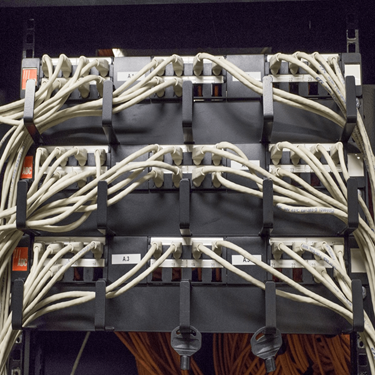 How do I apply for an email account?
To get a new email account your supervisor must send an email to calcolo@lnl.infn.it.
Information required in the mail are:
name of new user;
name of the supervisor
Email Account – change or reset password
To change the password of your INFN-LNL account use the following portal:
https://userportal.lnl.infn.it/
To reset your password please send an email to calcolo@lnl.infn.it.
How to request a wired network connection for a device?
This procedure must be carried out only if the cable network is used, the wi-fi requires only the LNL email and password (see below).
Send an email to calcolo@lnl.infn.it.
Information required in the mail are:
name of the user;
name of your supervisor;
MAC address (Ethernet Physical Address);
type of machine: desktop, laptop or other device.

To get the Physical Address code using Windows, open a DOS shell and type the following command:
ipconfig /all
To get the Physical Address code (HWaddr) using Linux, open a shell and type the following command:
ifconfig
The code to be sent is written in this form:
Physical Address.........: 00-11-D8-A7-57-37
What wireless networks (wifi) are available?
The wireless networks available to users are EDUROAM and INFN-dot1x.
EDUROAM is available in most Italian and foreign Universities and Research Institutes. INFN-dot1x is active in all INFN sites and requires a INFN email account.
The credentials for the wifi access are:
username: <user>@<domain>, where <user> is the username and NOT the full email address (for example: agozzeli@lnl.infn.it)
password: same as the one you use for your email account.
Internal resources, as printers, are NOT available from EDUROAM.
CCR gives a general guide about wifi connections.
How to configure a wireless network?
The Configuration Assistant Tool (CAT) service provides an automatic configurator active on various operating systems for EDUROAM and INFN-dot1x wifi networks.
To download the configurators, please connect to the web server and follow the instructions.
The direct link to the Laboratories of Legnaro profile is here.
To configure manually Eduroam network use the following parameters:
– Security: WPA2
– Authentication: Protected EAP (PEAP)
– Check "No CA certificate"
– Inner Authentication: MSCHAPv2
– Username: username@lnl.infn.it (for example: agozzeli@lnl.infn.it)
– Password: <password mail lnl>
The CAT recognizes, when possible, the operating system on the device and selects the appropriate configurator. After the download and the activation of the proper configurator, certificates and profiles of EDUROAM, CNAF-dot1x and INFN-dot1x wifi networks are installed in the wireless device.
The CNAF-dot1x network is active at the CNAF.
Configurators of Legnaro profiles are customized to exclusive use with the credentials given by the LNL IT team.
To activate the EDUROAM and INFN-dot1x networks, users belonging to other INFN sections or other institutions or universities must follow the instructions provided by the computing services of their structures.
How to install a printer?
LNL has a lot of printers located in different place of the lab.
The LNL printers list with location and features is available in a dedicated web page old page.
In Windows 10 you can add a printer by following these steps:
1. Click on Windows Start button and then click on the Settings icon.
2. On the Settings screen, click on Devices option.
3. On the next screen, click on Printers & Scanners in the left pane and then click on Add a Printer or Scanner option in the right pane.
4. Allow Windows to start searching for Printers and then click on The Printer that I want isn't listed.
5. On the next screen, select Add a Printer Using TCP/IP address and click on the Next button.
6. On the next screen, enter Hostname or IP Address of the Printer and click on the Next button.
7. Windows should be able to find the printer if the printer is on and it is properly configured. If not, you may be prompted to provide more information about the printer.
To print from wireless network, connect to INFN-dot1x or INFN-Web.
How do I configure the email client?
To configure the mail client on your laptop or desktop or mobile phone, fill the dialog window fields on your device according to these recommendations:
INPUT SERVER: imap.lnl.infn.it – PORT 143 – Authentication: login and password, STARTTLS
OUTPUT SERVER: smtp.lnl.infn.it – PORT 587 – Authentication: login and password, STARTTLS.
What software licenses are available?
A lot of national and/or local agreements are available for many commercial software products.
For any necessity, contact the Information Technology Service: calcolo@lnl.infn.it.
Examples: Adobe (Acrobat), Ansys, Autodesk/Autocad, Comsol, Labview, Mathematica, Matlab/Simulink, Microsoft Windows, Microsoft Office, Microsoft Project, Microsoft Visio, Nag, NX-Ideas, ProgeCAD, Originlab, Solidworks, Sophos.
How do i use Office 365?
The CRUI Convention between INFN and Microsoft entitles all INFN employees to use Office 365.
Office 365 lets you access Microsoft Office applications from a web browser, regardless of the platform (Windows, Mac, Linux, Android…).
It also allows users to share documents and folders, and synchronize them between all of the user's devices.
Authentication is fully integrated with INFN-AAI, once an account has been enabled.
To request an Office 365 account, please follow the instructions at: https://web.infn.it/windows/index.php/istruzioni/24-office-365
(Registration form: http://www.infn.it/richiesta-o365/)
More information about Office 365 on the INFN wiki: https://wiki.infn.it/cn/ccr/windows/o365
The Office 365 account will be usually created within 1-2 weeks after the request has been made. You will receive a confirmation e-mail.
E-mail address for questions or support request: o365@lists.infn.it
What is DPO (Data Protection Officer)?
A Data Protection Officer (DPO) is a role within a company that is expected by the Regulation (EU) 2016/679 (GDPR). He is appointed by the data controller and his tasks include, but are not limited to, the following:
Monitoring the compliance with the regulation;
Training the company and employees on compliance requirements;
Conducting audits and Data Protection Impact Assessments (DPIA);
Being a point of contact between the company and the GDPR Supervisory Authorities.
For more information about the role of DPO and what does it mean for the INFN please refer the following website https://dpo.infn.it/
Particular attention in the GDPR is paid to the aspect of Data Breaches and everyone should actively act in order to avoid them. Those who manage any kind of personal data should carefully respect rules relating to the protection of personal data that include:
Keep passwords at safe and never save them on public devices, nor leave them written unguarded. Also change it frequently;
Better not using personal devices in a work environment, but if necessary keep them protected with an antivirus and use strong passwords.
Before working on sensitive data read ask if there is a specific regulation to comply with. Avoid saving sensitive data on your own machine, if not otherwise stated.
Avoid using external drives for storing personal data since its easy for them to be lost. In any case use an encryption software.
At https://dpo.infn.it/materiali-informativi/ there can be found more guidelines with the references to the official regulations and laws.
Notes on data acquisition systems for experiments
Nicola Toniolo's presentation to the LNL council (March 2021)
Terms of use
Disciplinary for the use of INFN IT resources